New Patients

If you're visiting Belridge Chiropractic in Beldon for the first time, we'd like you to know exactly what to expect. It's our goal to make your time with us a relaxing and comfortable experience. You can be sure that you'll feel cared for from your very first phone conversation with one of our friendly staff.
If possible, we recommend that you wear loose-fitting clothing for your initial visit. Our office has often been described as being "awesome" and family-oriented. We hope you think so, too.
Your first visit will take approximately 30 minutes. As you enter the clinic, you'll be warmly greeted and invited to sit down to complete your initial new patient paperwork. You'll then meet with one of our highly-trained doctors, who will conduct an in-depth assessment, including:
A consultation
An orthopedic and neurological examination
X-rays, if necessary. (We'll refer you to a convenient local facility.)
Depending on your condition and level of discomfort, some initial pain relief will be considered, including soft tissue work and/or a gentle chiropractic adjustment.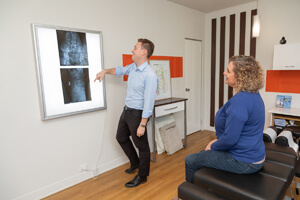 During your second visit, your doctor will evaluate your examination and X-ray findings to help you understand the source of your problem. Customised care options will also be discussed to help you start feeling your best.
Your visit will conclude with a chiropractic adjustment tailored to your needs.
Many of us spend a majority of our time sitting on office chairs at work. This reduces the amount of normal and optimal movement necessary for good spinal health. Many suffer from the effects of injury and spinal degeneration. We understand that this situation is often unavoidable.
Spinal areas that are sensitive have the potential to flare up periodically, even after receiving excellent chiropractic care. For this reason, we usually recommend that our patients come in periodically to maintain their optimal function and pain-free state. Of course, this is always your decision. Whatever you decide, our doors are always open to help you meet your goals.

Patient Education Can Change Your Life
We usually hold a monthly talk to educate our community on the many aspects of optimal health. These talks include information on exercise, women's unique health needs, paediatric chiropractic and essential movement. It's a great opportunity to learn more about running techniques, healthy eating, stress management and optimal neurological function. All are invited!
Book an Appointment Today
We love helping people of every age. Whether you're having a difficult pregnancy or want to get rid of chronic headaches, we can help. Our talented staff of doctors have the tools and expertise to make a major difference in your life. Contact us today for a convenient appointment!

New Patients | (08) 9401 0777