Are you excited for Christmas but also dreading the new year's added kilo's because we just know….
We ARE going to indulge…
Here are my 3 best tips for controlling weight and your health over the holidays and Christmas period…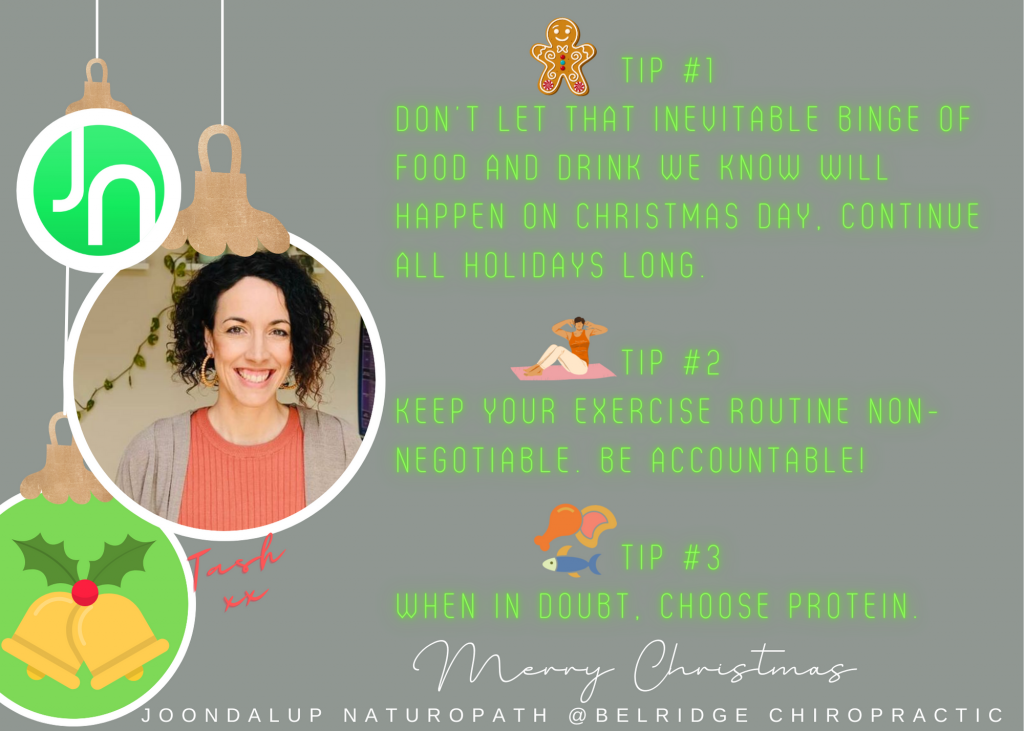 1 – To indulge or not to indulge!
There is absolutely nothing wrong with having an indulgent day on Christmas!  But that's exactly what it is, a reserved day where you can relax, enjoy family and partake in whatever yummy treats are on offer.
I know the lead up to Christmas can be hard with Christmas parties and entertaining, but remember there's usually a better, more healthful choice to be had, try to pick those where you can so you can have your guilt free indulgence on one special day.
2 – Exercise Routine
We all get very busy around this time of year, and in my experience, I usually see exercise become the negotiable part of the day.
Even if you do overindulge all holidays long, if you keep your regular exercise routine as non-negotiable, your body will be in much better shape to bounce back once you do get back on track in the new year.
And when I say exercise routine, I mean, some form of moderate intensity activity everyday.  Be creative and make your exercise more flexible to fit into your daily routine EG stream your class online, incorporate more walking, exercise with friends.
3 – Why choose protein?
Protein is your best friend when trying to lose or maintain weight.  When prepping food for the week, never underestimate how powerful being prepared for snacks can be.  Make them high protein, full of essential fatty acids, and the most minimal carb, and you'll be keeping yourself on track without even knowing!
That's it, my best tips for helping to manage your weight and health through the Christmas period.
Of course, having a health guru on your side (like me!) to keep you motivated could be the clencher for you, so get in touch!
Read more about Tash here  https://www.joondalupnaturopath.com.au/