Chiropractors suggest many aids to their patients to help with strain, tension and improve daily posture.
Using these aids several times a week is likely to reduce overall bodily aches and pains.
Here are some suggestions by our Chiros and why they suggest them…
Why use Posture Poles: Using the posture pole nightly will de-stress and release tension that is placed on our anterior neck, shoulders and chest muscles. These muscles are routinely shortened throughout the day causing strain and pain. Using posture poles will lead to better posture and reduced strain on our joints, muscles, tendons and ligaments. A no-brainer really!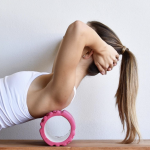 Why use Foam Rollers: Foam rollers are a popular form of stretching to alleviate soreness and reduce inflammation that occurs during the muscle repair process. It will help with recovery of overuse and then with injury prevention, by maintaining muscle length.
Using a roller during this time reduces tightness in the muscles, joints and fascia (your bodys connective tissue)
Why use a Theraband: This thin ribbon-like stretchy band is a very easy resistance form of stretching which can be done even while relaxing by the pool. It enables you to add light resistance in a controlled manner. It can be used for upper or lower body. It's actually good fun too!
Why use Trigger Balls: Like when using a foam roller, a trigger ball will reduce tightness and help breakdown the inflammation surrounding the fascia. They are ideal for sore feet and for plantar fasciitis sufferers. Placing the balls on the tender spots and rolling gently will be sore but satisfying.
For further instruction on using these aids just ask our Chiropractors when in the clinic, watch our videos on our YouTube channel, and on Facebook.
(All items are available for purchase in clinic)