FATIGUE EFFECTS ANY AGE FOR MANY REASONS!
IF IT GOES ON MORE THAN JUST THE DAY THEN THERES PROBABLY MORE TO IT!
There are so many causes for fatigue – low as well as high iron levels can cause it, BUT many other reasons may be the culprit like,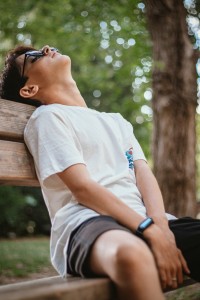 adrenal burnout,
post-viral fatigue,
poor absorption of nutrients linked to gut or liver issues,
hormonal issues,
thyroid dysfunction,
and very often it can be a combination of factors.
Some clients can't understand why they are feeling so sleepy all the time, when they get enough time in bed, and eat healthy. But most don't realise it has a lot more to do with actions and reactions within the body.
Absorbing nutrients efficiently from all sources is key. But not all nutrients are the same, especially those you buy over the counter in a bottle. For example Irons….Some common irons on the market are only 10% absorbed by the body, while better quality practitioner sold irons, cost the same generally, but are up to 90% absorbed by the body.
Better still, natural superfoods like Spirulina and herbs that are rich in iron like Withania are 100% absorbed.
Your body knows exactly what do with a natural food or herb, but not always when it comes to a synthetic iron tablet! A herbal tonic is a great option for fatigue as you can include herbs that address every cause! Finding that cause is my job, addressing it we will do together.
Why not spend some time with me and we can set you on the right path and make sure you are getting the correct care to get rid of that constant sleepy feeling.
Contact Katrina, Naturopath located at Belridge Chiropractic on 94010777 for an appointment.